PeriPedal v2.2.4 is now available. This version has several new updates and bug fixes:
Automatic Strava Upload

This version of PeriPedal connects to Strava.  Connect your user profile to Strava under Edit Profiles.  Once connected the workouts that you choose to save will be automatically uploaded to Strava.  While you're at it join PeriPedal's Strava club to see how you stack up against other users.
Ability To Pop-Out Entertainment
This version of PeriPedal allows you to pop-out your selected entertainment option (Local media or web content) to a new window.   This allows users with multiple monitors to utilize them with PeriPedal.  Auto playing and pausing of media is still supported as normal.  My new favorite way to use PeriPedal is with the Netflix entertainment option popped out full screen on one monitor and PeriPedal full screen on the other, auto-playing and pausing as necessary.
Workout Preview Enhancements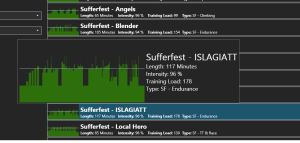 This version has two enhancements to make choosing your desired workout easier.  Each workout preview (and workout) now have a line indicating where the FTP is for that workout.  This makes it easier to determine how difficult a workout is by sight.  It also has a larger preview image that can be viewed by hovering your cursor over the desired workout.
Sufferfest Workouts
This version updates the PeriPedal workout collection to include all of The Sufferfest workouts.
Bug Fixes
Fixed issues with pairing older CycleOps PowerBeam Pro trainers.
Fixed issues with playing local media files.
You can always download the most recent released version of PeriPedal from here.  As always, if you have any issues of have any questions please contact us.  If you are interested in trying PeriPedal click here for a free 30 day trial.